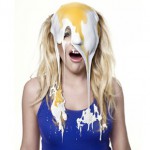 Eggs are the best way to start the day for those who want to lose weight.
A major UK review of studies into the effects of eating eggs has found that egg contains a powerful ingredient that can help to cut the amount of calories people go on to eat at lunch and dinner.
Scientists say boiled, fried, poached or scrambled, eggs keep people fuller for longer compared with other common breakfast foods.
This appears to help people who are desperately trying to resist tempting but naughty afternoon snacks such as biscuits, cake or chocolate.
The review, published in the journal Network Health Dietitian, also revealed that the specific proteins found in eggs are far superior to other types when it comes to keeping hunger at bay.
Dietitian Dr Carrie Ruxton examined the results of six different studies over eight years.
The studies show a consistent effect on satiety and short-term energy intake. Two studies found changes in appetite-related gut hormones, which may explain why egg-eaters feel full.
A single, longer-term study revealed that people who ate an egg breakfast rather than having cereal had a significantly greater weight loss and lost inches around the waist.
If you enjoyed this post, please consider to leave a comment or subscribe to the feed and get future articles delivered to your feed reader.