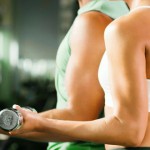 In our drive to get in shape and get healthy, Americans are hitting the track, the gym, the weight room with increasing regularity. We're watching what we eat, when we eat, how much we eat. But for some of us the results are still slow in coming. It may just be a matter of pumping up your routine – everyone hits their individual plateau after a while. But for those still challenging themselves regularly, the attention may be in the details. Here are some free workout tips that will help keep your focus on fitness.
Allow some time to get your heart pumping. Even a little bit of cardio, such as a run around the block or a couple of laps around the track, will get more oxygen and blood flowing through your body. Not allowing your muscles proper time to be completely warmed up puts you on the fast track to injury, and remember to never, ever stretch out cold muscles.
Stretch thoroughly. This is one thing every athlete, physician, and trainer cannot stress more. Too many people completely ignore the need to stretch, or else they spend too little time and are completely inefficient in their technique. When stretching, be sure not to bounce, but to gradually stretch into your position, holding the required stretch for 15-30 seconds. Be thorough in your stretching! Preparation will reduce the risk for injury when exercising.
Boost your cardio routine by throwing in some different moves – try doing jumping jacks at the end of every ½ mile run! Pushups, and squat thrusts work, too – anything that will challenge your muscles in a new way will help burn calories and get your metabolism up.
If you enjoyed this post, please consider to leave a comment or subscribe to the feed and get future articles delivered to your feed reader.